Named the best amusement park in Scandinavia four years in a row and Europe's best theme parks with under 1 million guest per year
Come and see for yourself why Djurs Sommerland was voted the best summerland in Scandinavia four years running and won "Family Park of the Year" and "Thrill Ride of the Year" at Park World Excellence Awards 2019
Ready for speed, thrills, and fun for all the family? Then look forward to Denmark's biggest roller coasters, the huge Aqua Park and more than 60 rides for kids of all ages
News 2022
Dinosaurland
Dinosaurland is a new themed area with 25 wild dinosaurs and 3 new rides.
Jump on the 400 meter long roller coaster, T-Rex Family Coaster and whiz close past giant carnivorous dinosaurs and impressive Brachiosaurus's. Take a ride on the Dino Xpedition through the dinosaur reserve's winding mines and dense forests, where 25 dangerous full-size dinosaurs rule.
Furthermore look forward to exploring the wildest Dinosaur Playground, where ancient dinosaur bones hide just below the surface.
Grgg... It's going wild!
News 2019
Tigeren
Ready for an experience that will stay with you forever?
Tigeren in Wild Asia is the tallest and fastest ride in the history of Djurs Sommerland. With a top speed of 100 km/h, a swing height of 45 metres and uninterrupted views, Tigeren calls for courage and calm. On the other hand, you will experience an amazing flight that you will never forget.
Who's going to try it first?
Enjoy the rush on Denmark's
best roller coasters
Looking for speed and exhilaration?
Djurs Sommerland offers world-class adrenaline rush experiences. Skatteøen is 455 meters filled with pirates, squid, and tickling in the stomach. at high speed, Skatteøen takes you through air and water, before you reach the wildest water splash after a 22 meter long drop.
DrageKongen – Europe's fastest and longest Family Suspended Coaster – is guaranteed to take your breath away as you dive down from a height of 30 metres at a hair-raising speed of 85 km/h with your legs dangling freely in the air.
Feel the rush in Juvelen, as you experience being launched twice at up to 85 km/h in Denmark's longest roller coaster
Thrill-seekers mustn't miss out on Piraten either. With a height of 32 metres and a top speed of 90 km/h, it has been named one of the best roller coasters in the world.
Favorites for the little ones
Bondegårdsland - for children and playful parents
There is speed and fun for all the family in the large Bondegårdsland with as many as 10 rides and attractions. Why not try a free-fall from the water towers, or flying along the roller coaster in a flurry of chicken feathers. How about a spin in the rotating cowshed? Or perhaps a jump-around on the crazy frogs? Bondegårdsland is filled with fun for everyone.
Look forward to 10 amazing rides, where everyone can join.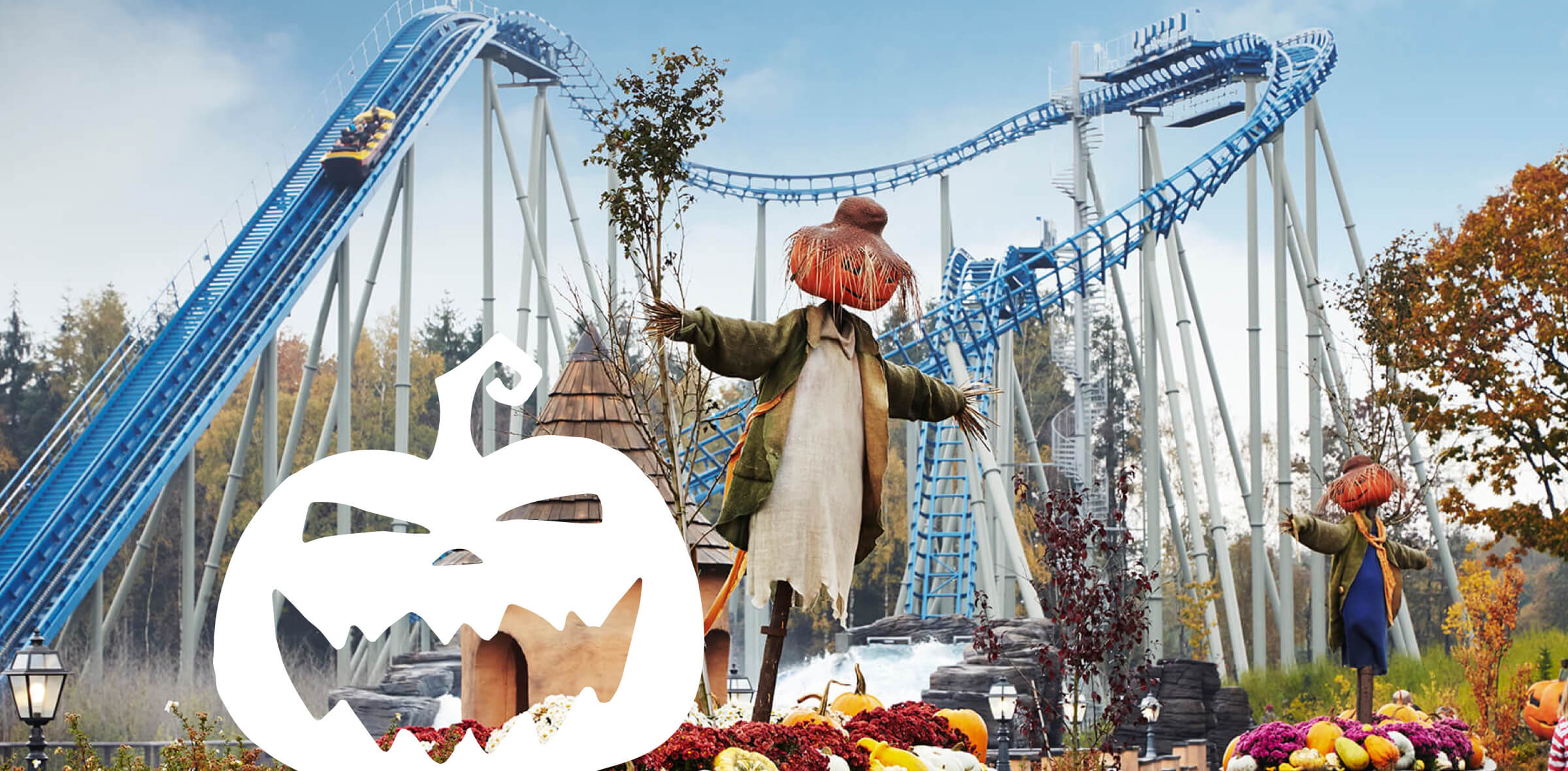 Magical Halloween in the autumn
When the days become darker, it's time for scares and fun for all the family.
Come to Magical Halloween in Djurs Sommerland, where you will find 30,000 pumpkins, rattling skeletons, and real witches.
You can also look forward to two Halloween Haunted Houses: HekseSkolen, an enchanting experience for all the family, and GræskarFabrikken, where scares lurk round every corner
Bring your family to Djurs Sommerland, where you will be kept amused for days!  Remember, all the rides are free once you have paid your admission. 
We are looking forward to seeing you!
Tickets and Season Passes
Book holiday deals including admission to Djurs Sommerland.